<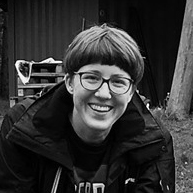 Laura
Petruškė
Architect, educator and creator whose work revolves around architecture, upcycled design, civic participation and creative placemaking.
In 2019, Laura, together with Beatrice Umbrasite, founded the association IDEAS GARDEN , facilitates an urban garden and implements creative placemaking projects. Laura is also the creator of the REPLASTICO2 project, which upcycles single-use plastic bags into new products and art. Laura exhibited REPLASTICO2 paintings, led creative and educational workshops on plastic upcycling, and worked with community members, pupils, students and professionals in Lithuania, Glasgow, London and Barcelona.
This year, Laura started to run an architecture class for children, where they are taught the creative process - from sketching to modelling.